Stop by or stay awhile.
Whether for an afternoon, a day, or overnight, you'll fall in love with the small-town warmth of St. Stephen. Stop by on your way, and you'll find lots of great shops and restaurants to discover. Make us your travel destination, and you'll also find a cozy place to stay the night. Either way, you'll be charmed by what you find.
Provincial Visitor Information Centre
Looking for information??  Check out some great ideas here! Or stop by our Information Centre, located at the entrance to our wharf, which is open July 1st to Labour Day, 9am-5pm and weekends 9am-5pm in September.  And don't forget to follow us on Facebook!
Image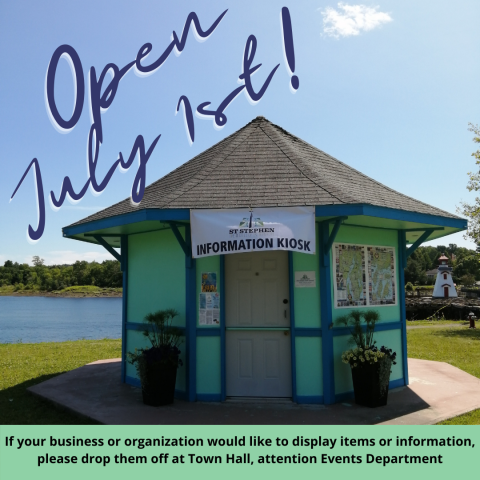 Chocolate galore!
You might expect that a place officially dubbed "Canada's Chocolate Town" has a bit of a connection to chocolate! For about 150 years the Ganong Bros. chocolate company has had a place of honour in St. Stephen. And that's as true today as ever. Ready to indulge?
Two towns in one
Few people visit St. Stephen without their passport. Just across the St. Croix River from Calais, Maine, St. Stephen enjoys a close relationship with its U.S. counterpart. Crossing the border? Be sure to stop in St. Stephen for a walk through town, a bite to eat, or a relaxing stroll along the river.  Or come join us for our International Homecoming Festival, where both communities have been coming together every August since 1973 to celebrate what makes our area so special!  Food, activities, a cross border parade and finishing with an amazing firework display enjoyed by all on both sides of the border makes this festival an activity to be enjoyed again and again!
A river runs through it
Historically, the St. Croix river was critical to the economies of both St. Stephen and Calais. Today, it's a wonderful way to enjoy an afternoon. Pick up some lunch to go from one of our downtown restaurants, and enjoy some laid-back moments on the river. Venture a little farther, and you'll find other parks, trails, and forests to explore.
Sometimes, it takes a small town to throw a big party! Summers in St. Stephen are vibrant, with a number of fun events to experience. With Chocolate Fest and Bonfire Festival, International Festival and RibFest, with so much more year round, there's always a reason to celebrate in St. Stephen!