When you work with the Town of St. Stephen, you don't just work with an amazing team of passionate people. You also get to help shape the place you call home. Our staff all have a common goal—to make this the best place to live and work. Here, exciting opportunities go beyond our thriving economic development and local businesses. So whether you live in town, Charlotte County, or elsewhere in Canada, if you have what it takes to make a difference in St. Stephen, we'd love to talk to you.
Current Openings:
Come join our events team! Pick when you can work!
Shifts are posted and you can pick when you want to work. Bar shifts require a Responsible Beverage Certificate from TIANB. Employees receive a membership to the Garcelon Civic Center as well!
The Special Event Staff is responsible for food, beverage and hospitality service during events for the Town of St. Stephen including, but not limited to, set up and execution of Town events and banquet and bar service during hockey games, conferences and receptions as well as providing excellent customer service as part of a team environment. Lifting and periods of standing/walking will be required.
Flexible hours of work offered including days, evenings, and weekends. Work shifts will be posted as events are scheduled with the town, and staff can choose their availability and which events they will work.
The preferred qualifications include:
• Experience in hospitality, customer service/reception
• Experience in food and beverage service/preparation
• Valid NB Food Safe Handling Certificate (assistance will be provided for thos willing to obtain certification)
• Valid liquor serving certificate from TIANB required for bar staff (19+)
As per town policy, proof of Covid-19 vaccination is required.
For additional information visit the Town's website www.town.ststephen.nb.ca.
Do not apply through Facebook. Please submit your cover letter, resume and three references to:
Town Hall
22 Budd Avenue
St. Stephen, NB, E3L 2J5
Attn: Michelle Vest
Or by email to events@chocolatetown.ca
The Town of St. Stephen thanks all respondents; however only those selected for an interview will be contacted.
Image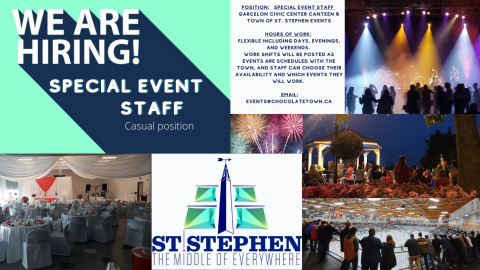 ***************************************************
Non-union lifeguard positions also available!  Flexible to your schedule, great for students!
Image