St. Stephen's outdoor pool is the perfect way to cool down on a hot summer day, and it's free to visit! The main body of the pool is a 15m wide by 25m long lap portion, with a connected shallow beach entry section that includes three different splash features and a water slide leading into the larger lap portion of the pool. Surrounding the pool is the main building with indoor change rooms and several picnic tables and benches.
Summer Swimming Lessons 2022
The W.T. Booth Centennial Pool will once again offer swimming lessons over the Summer of 2022! More information will come over the next couple of months, so stay up to date on our Facebook page and website for more information on Summer swimming lessons!
Facebook: https://www.facebook.com/WT-Booth-Centennial-Pool-864696676937136/?ref=pages_you_manage
Image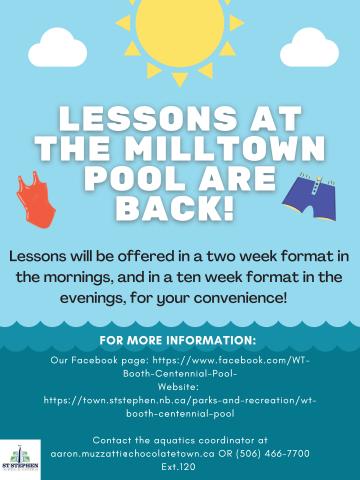 ** We are now CLOSED for the remainder of the 2021 Season. Thanks to everyone for another fantastic Summer**
Pool rental rates:
1-50 Swimmers: $105/hr
51-75 Swimmers: $120/hr
76-100 Swimmers: $140/hr
All numbers include parents in attendance, and in accordance to required swimmer ratios based on age of the swimmers in attendance
For more information, please email aquatics@chocolatetown.ca or follow us on Facebook