Come join us on the waterfront for a fun filled day overlooking the St. Croix River!
On the Waterfront:
9:00am-2:00pm - St. Stephen Farmers Market 

9:00am-5:00pm - Information Kiosk Opening Day + first day of paddleboard rentals 

10:00am - Opening Ceremony

10:00am-2:00pm - Children's Inflatables and Waterslides Courtesy of St. Stephen Volunteer Fire Department + IWK Cotton Candy and Outside Games

11:00am-2:00pm Kings Church BBQ & Lionettes Strawberry Shortcake Fundraiser

12:00 noon CAKE! CAKE! CAKE!
Other celebrations:
2:00pm-6:00pm Free Skating Quartermain Arena, Garcelon Civic Center

2:00pm-6:00pm Free Swimming at the W.T. Booth Centennial Pool

6:30pm-8:30pm - Chocolate Park - Celtic Fiddler Katherine Moller
Image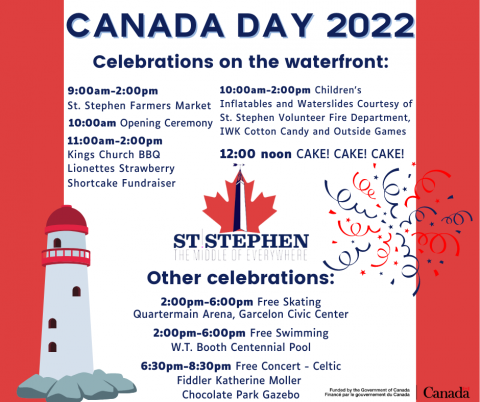 Rain location - Garcelon Civic Center