Image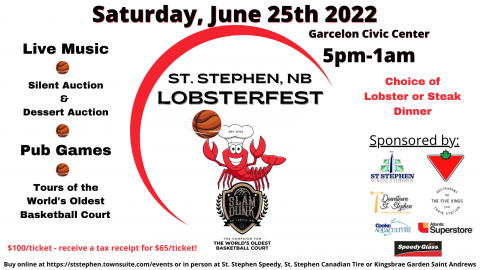 Did you know that the oldest existing basketball court in the world can be found right here in St. Stephen in an old building on King St??
Canada 1st Basketball and the Town of St. Stephen are working hard on restoring the court and turning it into an experience center and museum that beats any center that can be found anywhere! The Town of St. Stephen has joined up with this committee and together with them and Downtown St. Stephen we are pleased to bring everyone the inaugural Lobsterfest with all proceeds going towards The World's Oldest Basketball Court!
Doors open at 5pm, and enjoy live music and pub games (air hockey, basketball, washers, etc) and dinner is served at 6pm. Don't like lobster?? That's okay, have a steak dinner instead! Or 1 person get steak, 1 get lobster and share = surf & turf!
We will be having a dessert auction...have you tasted some of the amazing pies we have in this town! Buy it for yourself, or share with friends.
Then, after dinner, ticket holders will get to take a tour of the court!! Just a 1 minute walk from the Civic Center, it is a fun addition to the night. Tours will be open from 7-9:30pm
Starting at 9pm...Lobsterfest is proud to introduce in their first public appearance...Boundary Street Blues! These guys are not just blues however...bring those dancing shoes for all the classic rock they will be brining your way! NOTE that Lobsterfest is 19+ after 9pm.
We will also be having a silent auction with TONS of great items, including all the pub games! That's right...come play on that air hockey table and if you have the winning bid, you win will get to keep playing with it!
Best part of everything is that for each ticket you purchase at $100, you will receive a tax receipt back for $65 for your donation towards the court.
We thank everyone for their support of this worthy cause, and such an amazing part of NB and Canadian history!!
Tickets available to purchase online at https://ststephen.townsuite.com/events.
In person purchase options are available at St. Stephen Speedy and Canadian Tire, and Kingsbrae Gardens in Saint Andrews.
**tax receipts will be issued by the Town of St. Stephen after completion of the event**