New From St. Stephen Aquatics: 
Fitness Swimmer!
Fitness swimmer is a brand new program from the St. Stephen Aquatics Department! Fitness Swimmer will help you with YOUR personal fitness goals. Whether you are looking to lose weight, increase your cardiac health, get back in the water after COVID/a long time away, or to build strength, Fitness Swimmer is for you! Classes will start on January 13th and run every Friday, excluding stat holidays, from 6:00PM-7:00PM until June 30th. Spots are limited, so sign up TODAY!! 
Image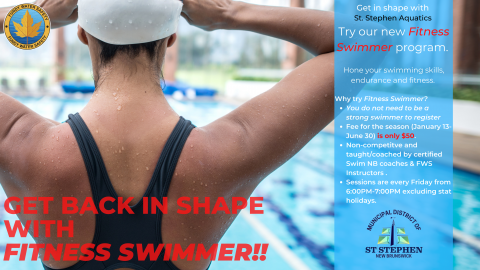 Special Olympics has a New Home in St. Stephen! 
As of November 1st, 2022, the Town of St. Stephen and Garcelon Civic Center founded its first Special Olympic team! Practices run every Tuesday from November 1st, 2022 - June 27th, 2023 (excluding December 27 & January 3rd) with a fee of only $50.00 for then entire season! 
Image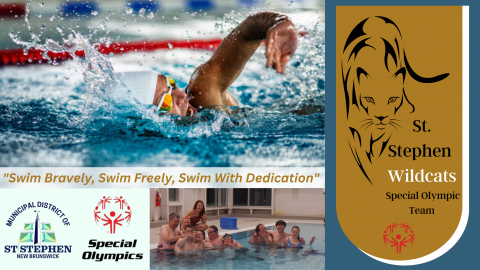 Not sure if Special Olympics is for you?? Your first session with our team and Coaches is absolutely FREE so YOU can see if Special Olympics is right for you! Whether you are looking to compete or just to stay fit and have fun, St. Stephen's Special Olympics is your gateway to better Aquatic Programming! 
Read an interview from the St. John Telegraph Journal HERE, with our Aquatics & Programming Coordinator and Jaclyn Craig from the St. Croix Vocational Centre to see what Special Olympics could do for you, or someone that you know! 
REGISTER FOR SPECIAL OLYMPICS HERE!
We Need Lifeguards, Swim Instructors & Supervisors!! 
Swim Instructor & Lifeguarding Course Prerequisites: 
Assistant Lifeguard: Bronze Medallion --> Bronze Cross & Standard First Aid --> 14 years of age -->Certified Assistant Lifeguard!!
LifeguardIng: Bronze Medallion --> Bronze Cross & Standard First Aid --> 15 Years of Age --> National Lifeguard Service (NLS)     --> Certified Lifeguard!! 
Swim Instructor: Bronze Medallion --> Bronze Cross & Standard First Aid --> 15 Years of Age --> Fundy Tots Instructor --> Fundy Swim Instructor --> Fully Certified Instructor!!
Upcoming Courses:
Bronze Star: 
Image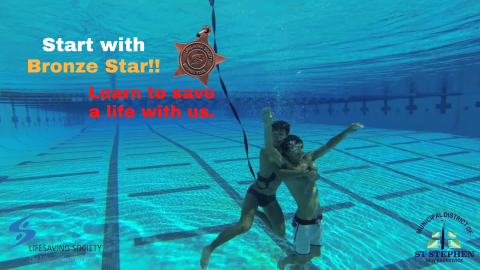 Too young to enroll in a Bronze Medallion course, but looking to start your lifeguarding/lifesaving adventure? Start with Bronze Star at the Garcelon Civic Center!! 
Next Course: There are currently no scheduled Bronze Star level courses. Please contact aquatics@chocolatetown.ca for more information. 
Bronze Medallion: 
Image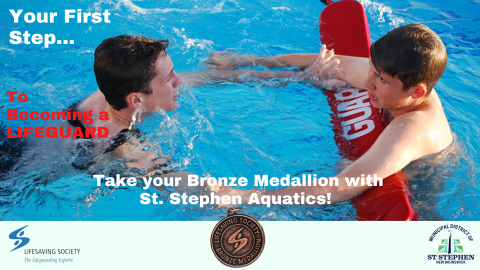 Bronze Medallion is the first of the mandatory National Lifeguard Service and Swim Instructor pre-requisites. Candidates must be 13 by the date of the class exam (the end of the course) to enroll. Candidates will learn lifesaving skills and swimming techniques that will be valuable for life! 
Next Course: 
Bronze Cross: 
Image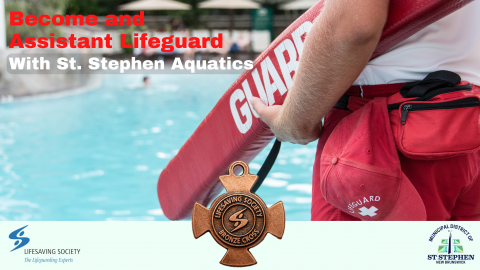 Become an Assistant Lifeguard with the St. Stephen Aquatics Department! Take your Bronze Cross course with us and get the last pre-requisite certification for your National Lifeguard Service course AND your Fundy Tots Instructor & Fundy Swim Instructor. 
Next Course: 
National Lifeguard Service (NLS)
Take your National Lifeguard Service with St. Stephen Aquatics this February!! Want to become an employee with St. Stephen Aquatcs?? Learn more about our work-term agreement program by contacting aquatics@chocolatetown.ca, texting 467-7446 or calling 467-3030 x120! 
Image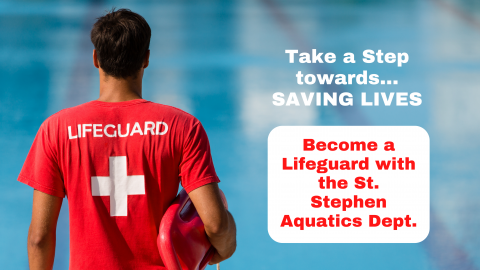 Swim Instructor Course:
Image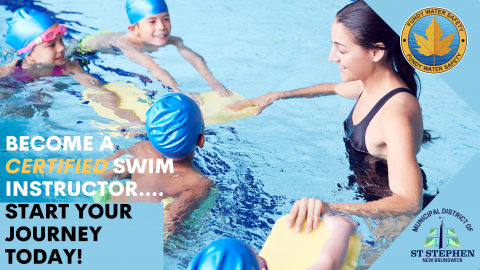 Become a Fundy Tots Instructor and/or a Fundy Swim instructor with us this March!
Learn to teach children, teens and adults how to swim here at the Garcelon Civic Center.
Course Schedule: 
March 6th-10th, 10:00AM-4:00PM
Looking to start working as an instructor with us? Find out about our Work-Term program, and get your courses for FREE!! Email: aquatics@chocolatetown.ca Text: 467-7446 Call: 467-3030 x120 for information/to register for our Work-Term agreement. 
Not looking to enroll in the Work-Term program: Register HERE
Swimming Lessons
Image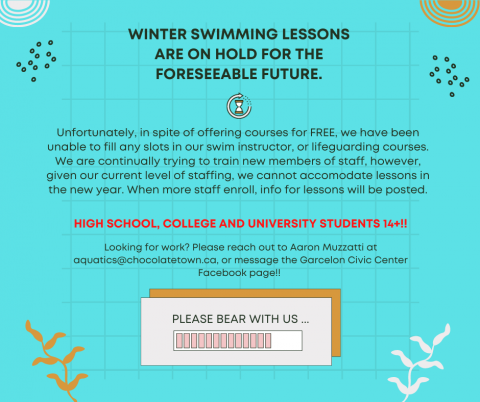 Please See the transfer chart for the Red Cross, to Fundy Water Safety Swimming Lesson Program below: 
Image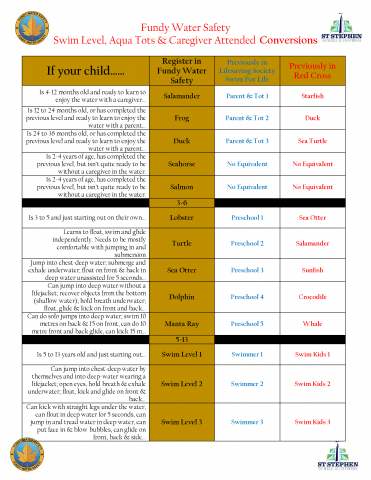 Image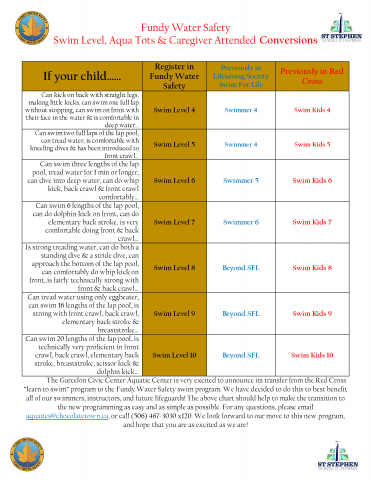 Downloadable Copy: 
Fundy Water Safety Conversion.pdf
Great Barrier Busters
Great Barrier Busters is an all-inclusive one-on-one swimming lesson program for children diagnosed with Autism Spectrum Disorder, Global Development Delay, Cerebral Palsy, etc. All of our Barrier Busting instructors have attended our in-house training course. We are very proud of this program, so we are happy to answer any of your questions, try reaching out at either aquatics@chocolatetown.ca, or 467-3030 x120. We hope to have you join us and become a Great Barrier Buster! 
Image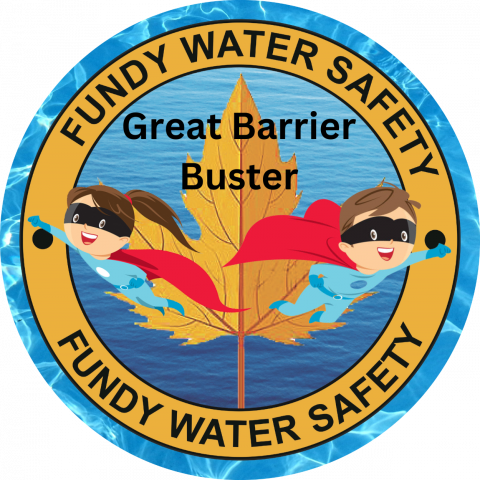 About our Aquatics Facilities
St. Stephen has two swimming facilities operated by the town, each perfect for a splash around with the kids, lap swimming, lessons, or just a quick dip. Both also offer swimming lessons throughout the year.
The Garcelon Civic Center Kiwanis Aquatic Center is an indoor facility at 22 Budd Ave. It consists of two pools, one slide, and two dry saunas. The W.T. Booth Centennial Pool, at 10 Mill Lane, is an outdoor facility that's open during the summer months. 
Interested in competitive swimming? Check out our Shark Attack swim team.