The Garcelon Civic Center fitness center has everything you need to improve fitness, boost cardiovascular performance, and get stronger. State-of-the-art equipment includes a variety of cardio machines, weight machines, and free weights. There is also a small room to the side that is perfect for yoga or personal stretching. This bright room looks out into both the pool and arena areas.  
All student day passes will require ID and may only be purchased by those 15+. Punch cards and memberships will require ID for initial purchase/renewal.
12-14 years old MUST have a parent/guardian 16+ years old IN THE GYM with them in a 3:1 ratio. The parent/guardian does not need to be exercising and may sit on the chair provided in the room.
12-14 years old may NOT purchase a day pass. They MUST have a punch card/membership so that we have completed paperwork and waivers on file. Parents must provide ID for the child when completing the paperwork to verify age.
15+ does not require a parent/guardian in the gym. Parent must sign all forms when purchasing a punch card or membership. ID required for all purchases.
16+ counts as a parent/guardian but REQUIRES ID to verify age. Parent must sign all forms when purchasing a punch card or membership. ID required for all purchases.
Once an age has been verified in our system for a purchase/renewal of membership/punch card, they will not require ID each visit. Student Day Passes will always require proof of age (unless a previous account is on file AND age has been verified with ID already).
Student ID required for all registered students 19+
Adult passes and memberships are 19-59
Senior passes and memberships are 60+
For online purchase of memberships, to register for activities, or to reserve a facility, see http://ca.apm.activecommunities.com/chocolatetown/
Image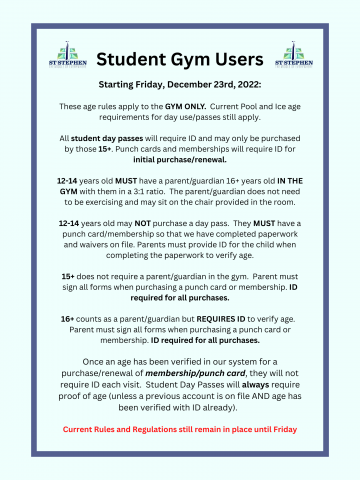 Starting April 1st, 2022 we will be modifying our gym reservation policies.
We will continue to allow 12 people to pre-book for each slot however, we will now have 4 walk-ins per slot on a first come, first serve basis (for a maximum occupancy of 16).
Check-ins for walk-in slots will not be allowed more than 15 minutes prior to gym slot start time.
This new procedure is so we may continue to offer the booking times that many users prefer while also offering more flexibility to our members.
Gym Ettiquette:
- The Garcelon Civic Center is a scent free facility.  Those wearing scents may be asked to leave 
- Spray down all equipment between use (including dumbbells)
- Respect others at all times
- No yelling or profanity
- No picture taking or video of yourself or others without written authorization from the facility manager
- Use 1 machine at a time - no "saving" other machines 
- Gym slots are to be reserved at the front desk, or by calling 467-3030.  
- No jumping on the weight benches