When you work with the Municipal District of St. Stephen, you don't just work with an amazing team of passionate people. You also get to help shape the place you call home. Our staff all have a common goal—to make this the best place to live and work. Here, exciting opportunities go beyond our thriving economic development and local businesses. So whether you with the Municipal District, Charlotte County, or elsewhere in Canada, if you have what it takes to make a difference in St. Stephen, we'd love to talk to you.
Current Openings:
***************************************************
Image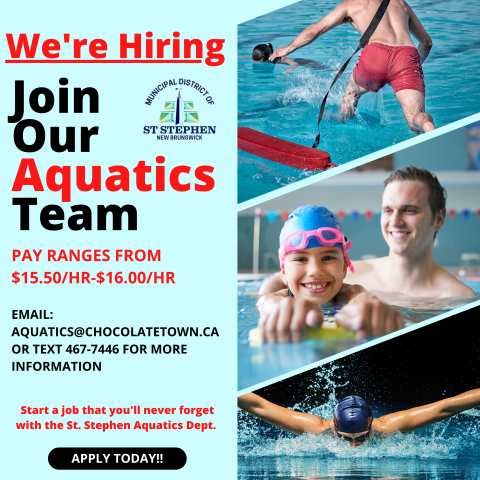 We Need Lifeguards, Swim Instructors and Supervisors... and YOU could be one of them!! 
The St. Stephen Aquatics Dept. is looking for non-unionized Lifeguarding, Instructing and Suporvisory staff! The ideal staff member should already have the following: 
Bronze Medallion
Bronze Cross 
National Lifeguard (asset)
Swim instructor certification (asset)
Standard First Aid 
CPR-HCP & Airway Management (assests)
Don't have any of these? No problem!! Take all of your training courses for FREE when you sign on as an employee under a work-term agreement! 
Pay Ranges from $15.50/hr-$16.00/hr 
Don't wait, submit your application today and join the St. Stephen Aquatics team! Inquiries about the work-term agreement program and/or applications can be sent to Aaron Muzzatti via email at aquatics@chocolatetown.ca, or text 467-7446 for more information!