When you work with the Municipal District of St. Stephen, you don't just work with an amazing team of passionate people. You also get to help shape the place you call home. Our staff all have a common goal—to make this the best place to live and work. Here, exciting opportunities go beyond our thriving economic development and local businesses. So whether you with the Municipal District, Charlotte County, or elsewhere in Canada, if you have what it takes to make a difference in St. Stephen, we'd love to talk to you.
Current Openings:
Image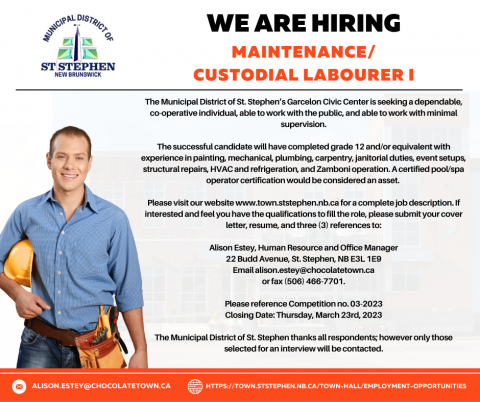 Casual Employment Opportunity
Maintenance/Custodial Labourer I
The Municipal District of St. Stephen's Garcelon Civic Center is seeking a dependable, co-operative individual, able to work with the public, and able to work with minimal supervision.
The successful candidate will have completed grade 12 and/or equivalent with experience in painting, mechanical, plumbing, carpentry, janitorial duties, event setups, structural repairs, HVAC and refrigeration, and Zamboni operation. A certified pool/spa operator certification would be considered an asset.
Please visit our website www.town.ststephen.nb.ca for a complete job description.  If interested and feel you have the qualifications to fill the role, please submit your cover letter, resume, and three (3) references to:
Alison Estey, Human Resource and Office Manager
22 Budd Avenue, St. Stephen, NB E3L 1E9
Email alison.estey@chocolatetown.ca
or fax (506) 466-7701.
Please reference Competition no. 03-2023
Closing Date: Thursday, March 23rd, 2023
The Municipal District of St. Stephen thanks all respondents; however only those selected for an interview will be contacted.
***************************************************
Image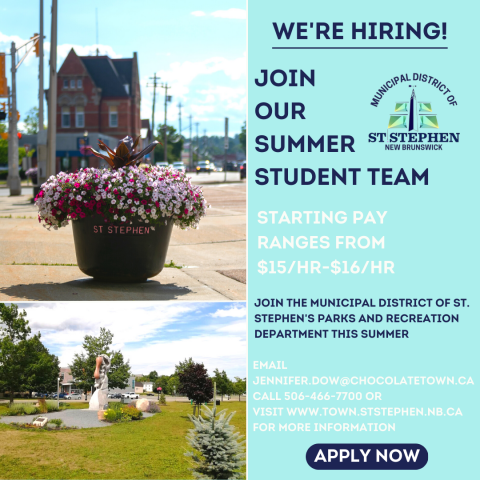 Seasonal Employment Opportunity
The Municipal District of St. Stephen is seeking summer student positions for the Community Services Department with our Parks & Recreation crews. The successful candidate must be self-driven, proactive, and energetic.  The ideal candidate will have the following qualifications/experience:
Lawncare or landscaping related experience performing general labour.
Currently attending a post-secondary education program or registered for fall 2023.
Ability to take initiative to complete tasks
Basic understanding of safe work practices
Ability to work independently and in a team with minimal direction.
Capable of prioritizing work as required.
Valid Driver's License
Application for employment with our Parks & Recreation crew: 
Application deadline: 5pm on April 7th, 2023
The Municipal District of St. Stephen thanks all respondents; however only those selected for an interview will be contacted.
***************************************************
Image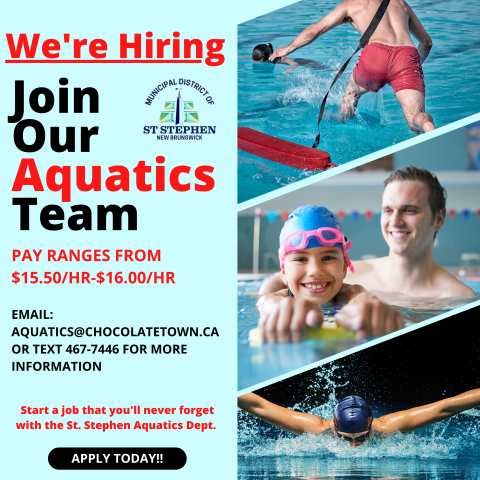 We Need Lifeguards, Swim Instructors and Supervisors... and YOU could be one of them!! 
The St. Stephen Aquatics Dept. is looking for non-unionized Lifeguarding, Instructing and Suporvisory staff! The ideal staff member should already have the following: 
Bronze Medallion
Bronze Cross 
National Lifeguard (asset)
Swim instructor certification (asset)
Standard First Aid 
CPR-HCP & Airway Management (assests)
Don't have any of these? No problem!! Take all of your training courses for FREE when you sign on as an employee under a work-term agreement! 
Pay Ranges from $15.50/hr-$16.00/hr 
Don't wait, submit your application today and join the St. Stephen Aquatics team! Inquiries about the work-term agreement program and/or applications can be sent to Aaron Muzzatti via email at aquatics@chocolatetown.ca, or text 467-7446 for more information!